Qualified ANST and AWS Certified Visual Inspections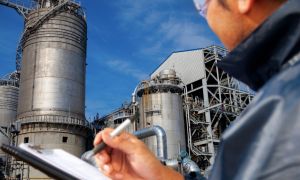 Visual Inspection, also known as Visual Testing (VT), is the oldest, most versatile, and most commonly used non-destructive test (NDT) method.
Used alone or in conjunction with other test methods, qualified visual inspection is a reliable and highly cost effective tool for quality control.
Direct visual inspection applies proper lighting, measurement, and comparative tools with the experience of our qualified technicians to determine design compliance and conformance to drawings, codes and specification requirements.
Visual Inspection:
requires little, if any, specialized equipment
has few limitations and wide applications
is commonly used for detection and interpretation surface flaws
Most all non-destructive test methods are enhanced or adapted visual inspections. Magnetic Particle, Liquid Penetrant, Ultrasound, Radiography, Ground Penetrating Radar, and other test methods use skilled visual evaluation of test results.
Visual Testing Process
Trained and qualified visual inspectors apply knowledge of drawings, codes and standards to evaluate a wide variety of both new and in-service components.
Human vision can focus, scan, measure, and detect depth, color, and flaws with great precision. Combined with instant, cognitive abilities of the human brain, VT has broad applications.
Weld size, contour, and conformance with design drawings and specifications
Building construction and fabrication accuracy
In-process and in-service inspections for Power Generation Services
Comparative measurements with gauges and tools provide accurate evaluations
Applications for Visual Inspection
Explore the services utilizing Visual Inspection.
Experience and Qualified Inspectors
Baker Testing Services employs dozens of trained and qualified visual inspectors.
American Welding Society Certified Welding Inspectors (AWS CWI)
ASNT-TC-1A and NAS -410 (MIL-STD 410) certified inspectors
API Certified Tank Inspectors
RT, PT, MT, UT technicians are also qualified visual inspectors
Visual Acuity Testing conducted annually by certified opticians
Veriforce Operator Qualified (OQ)