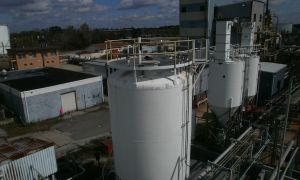 Inspecting for Safety and Reliability
Baker Testing provides independent in-field inspection of above ground storage tanks.
Oil and Gas Tanks
Water Tanks
Chemical Storage Tanks
Hazardous Waste Storage Tanks
Food and Beverage Industry Tanks
Inspection and Evaluation
To identify areas in need of service, Baker Testing inspects and reports on  the following areas.
Longitudinal Seams
Girth Welds
Nozzle Welds
Inner Radius
Tank Wall, Roof, and Floor
NDT Methods for Storage Tanks
The following NDT testing methods are commonly used to identify flaws, corrosion, weakness and damage.
Baker Testing also provides Welder Qualification.
Certifications and Specifications
Over 40 years of NDT experience
American Petroleum Industry specification API 653
American Water Works Association specification, AWWA
ANST Nondestructive Testing standard SNT-TC-1A.
ASNT Level III certifications in UT, RT, MT, PT, VT