Detecting Objects Embedded in Concrete
Baker Testing offers Ground Penetrating Radar (GPR) inspection services to accurately detect and mark unseen structures that are embedded in concrete.
Ground Penetrating Radar is an effective method to locate, mark, and avoid embedded structures in concrete before coring or cutting.
Commercial and Residential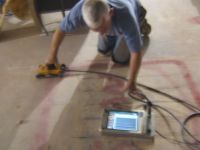 GPR is frequently used in commercial, residential, renovation, and re-design projects including office buildings, hospitals, and garages. For existing structures, inspection of concrete aids architectural and engineering evaluations.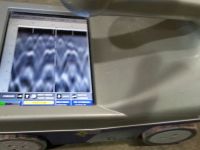 GPR scanning can detect and locate reinforced steel, cables, conduit, HVAC, plumbing, radiant heat tubes, voids, and other structures embedded in concrete. GPR inspection is a cost effective safety tool to prevent damage of building utilities and to retain structural integrity.
GPR Advantages
No emission of radiation
Evacuation of area not required
Inspection requires access to only one side of a slab or wall
Accuracy of structure location and depth
Inspection results may be marked directly on surfaces
Ability to scan up to a depth of 16″
3D mapping capability
For comparison of GRP advantages and X-Ray advantages when inspecting concrete surfaces, visit Concrete Inspection, GPR vs Radiography
Experienced GPR Technicians
Over 15 years of GPR experience
Hundreds of satisfied customers
Trained and qualified technicians
State of the art radar technology, antennas, and instruments

Related Links