A Leader in Radiography, X-Ray, Gamma Ray
Baker Testing provides both field and lab-based radiography – a non-destructive testing (NDT) method producing high sensitivity x-ray images and gamma-ray images for a variety of applications from welds, castings, electronics, and piping components to inspection of art works and forensic research.
With over 40 years experience, we offer both conventional radiography (RT) producing images on film and computed radiography (CR) providing digital images that allow for advanced evaluation by adjustment of contrast, brightness, and magnification.
Flexible Lab Capacity and Mobile Imaging
Large volume testing and rapid turnaround with 6 laboratory x-ray vaults
Seven mobile field labs for on-site digital image processing or film development
320 KV X-Ray available in the field or lab, capable of penetrating 2″ of steel
IR192 Gamma-Ray, capable of penetrating 3″ of steel and 8″ of concrete
Cobalt 60 Gamma-Ray, capable of penetrating 8″ of steel and up to 30″ of concrete
State of the art Fuji equipment, the leader in digital x-ray systems
Industry Certified Expertise
Customer satisfaction is our top priority.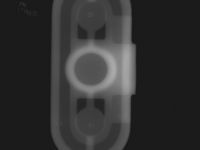 Large staff of ASNT and NAS certified RT Level II and III radiography technicians
Certified training on methods, procedures, and equipment to provide quality inspection
On-staff quality assurance personnel
Over 40 years of radiography experience
Veriforce Operator Qualified (OQ)
Film and Digital X-Ray
With decades of experience in radiography, Baker Testing is a leader in both film and digital radiography. Film based techniques still apply for many applications. Computed Radiography, producing digital x-rays, has many benefits:
Ability to capture a wide range of thickness with a single shot
Faster image processing – 10 times quicker for rapid image review
Lower exposure for digital images plates – reduced exclusion zones
Environmentally friendly – no chemicals or hazardous waste
Easier to store and retrieve images on a computer, CD, DVD, and email
More image detail with the ability to adjust brightness and contrast
Measurements and notations can be added directly to x-ray images
Image zoom capabilities allows magnified inspection ability
The experienced staff at Baker Testing Services can help you to determine the best radiography testing method for your application.
Radiography Applications
Both conventional and digital radiography are commonly used to detect flaws such as cracks, inclusions, gas pockets, fusion or penetration conditions and other discontinuities in welds, castings and other metal-based components.
Applications for NDT radiography are very wide for other materials, products and investigative process.
Explore services Baker Testing offers using radiography: