Advanced NDT
Ultrasound Inspection

Phased Array Ultrasonic Testing (PA UT) is an advanced science, using high speed electronics and composite multi-element array probes to produce ultrasonic waves. The UT waves are combined, producing highly accurate images that identify geometry, anomalies, and flaws.
Overview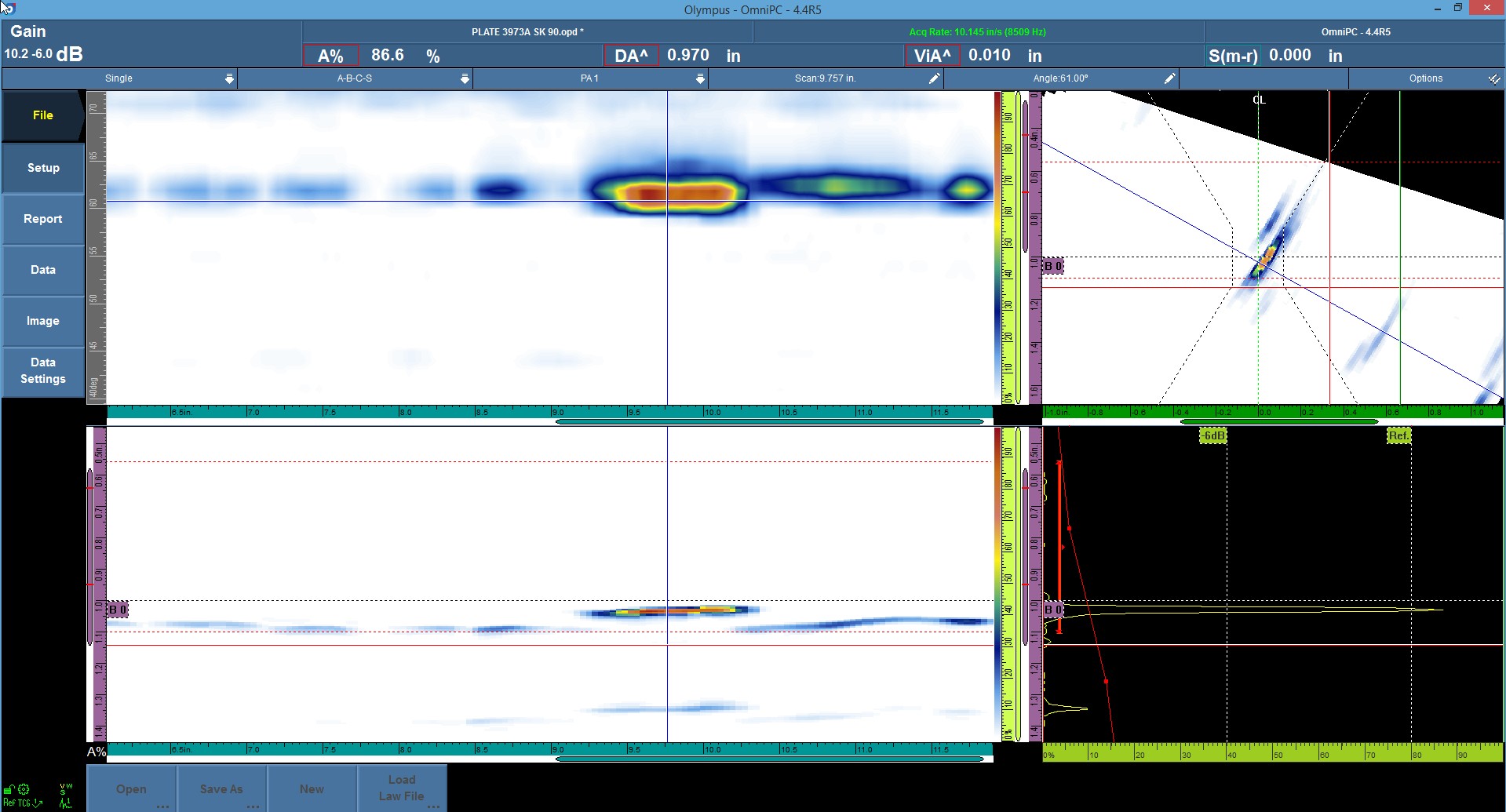 Fast and Accurate – Mechanized scanning of parts with Phased Array UT technology provides 10 to 100 times faster data acquisition of large areas when compared to conventional UT methods.
Industry Recognized – Phased Array technology is recognized for use by almost all governing codes, most notably ASME, which is often a reference code book for most critical and pressure vessel applications.
Quick Archival – Phased array technology allows for quick archival and retrieval of data, a typical code requirement.
Cost Savings – Substantial on-site cost savings are achieved from speed but even more so from the opportunity to work side-by-side with all on-site personnel. Using UT eliminates the requirement of establishing worker "exclusion zones" associated with X-ray imaging, eliminating any potential for health physics issues or late-night, off-hour, inspections.
Ease of Access – With Phased Array technology, access to tight spaces is possible using miniaturized phased-array probes and semi-automated scanners.
Phased Array Experience
Baker Testing uses Phased Array in a wide variety of applications. Teams of technicians and UT Level III personnel are available to deploy for small custom jobs or larger scale, high volume part applications.
Bridge Inspection
Read document
Encoded Phased Array Bridge Pin Inspection (.pdf)
Marine Vessels and Structures
Traditional experience in steel and metal materials and expertise in the newer Advanced Carbon Composite materials used in the manufacture of Racing Tri-Marans and Luxury Yachts
Automotive, Aerospace, and Transportation
Special Composites inspection and Bond applications
Power Generation Field Services
The Nuclear Power industry was one of the first to adopt and embrace the use of Phased Array technology for pressure vessel weld inspection. Now, traditional Oil and Gas fired plants are calling upon this technology for Critical Welds in Steam Piping from Headers to feeder tubes ultimately expanding usable life cycles of Boilers.
Pipe Installation and Weld Inspection
ASME Code based weld inspection of pressure piping
UT in lieu of X-ray for cost benefits and advantages
Building and Land Based Infrastructure Development and Maintenance
AWS code based weld inspection requirements are now being augmented with Phased Array under Annex K for tremendous cost savings.
Qualified NDT Technicians
Baker Testing has extensive experience using Phased Array technology
In-depth knowledge has been gained by solving hundreds of different applications
Our tool box is full with probes, wedges, and scanners to solve your application
We use the latest and most widely accepted Phased Array instrumentation & equipment
Certification & Education
ASNT UT Level III & Level II technicians
Certified training on methods, procedures, and equipment to provide quality inspection
On-staff quality assurance personnel
Over 40 years of ultrasound experience
Related Links
Buildings – Steel and Concrete